GKA volunteers regularly organise events to raise awareness of the work of GK. Check out our calendar for details.
Santacruzan and Flores de Mayo 2023​
Santacruzan and Flores de Mayo are two of the most beloved events in Filipino culture, and for good reason. They're both filled with beautiful customs and traditions that have been passed down through generations.
At Santacruzan, we honor the search for the Holy Cross with a grand procession that features beautiful queens and vibrant costumes. And at Flores de Mayo, we celebrate the beauty of nature with a colorful display of flowers.
But what truly makes these events special is the sense of community they foster. We come together as one to celebrate our shared heritage and to build connections that last a lifetime.
COVID Self-care and Vaccination Info Session
The Water Well Project is an award-winning Australian not-for-profit health promotion charity founded in 2011. Their aim is to improve the health and wellbeing of individuals and communities from migrant, refugee or asylum seeker backgrounds through health education.
The Water Well Project facilitates health education sessions in partnership with community organisations. Sessions are facilitated by healthcare professionals who act as volunteers.
Donations from GAWAD KALINGA Australia and CAFOVI were gladly received at Riviera Christian Centre bushfire relief volunteers
What can ordinary citizens achieve when we work together
The 3rd Global Social Business Summit Invitation at the GK Enchanted Farm
What can ordinary citizens achieve when we work together towards the shared dream of a peaceful, productive and prosperous Philippines? And how do we translate this across cultures and countries as we create the new economy, the business of kindness?
 The Philippine continues its steady climb, buoyed by good governance and a growing army of young, tech-savvy, globally connected population. Currently one of the fastest growing economies in the world, the Philippines is now the gateway to emerging markets in Asia, and Gawad Kalinga Enchanted Farm is poised to ensure that the poor are included in the creation of prosperity by building the first of 25 Farm Village Universities in the country.
The GK Social Business Summit at GK Enchanted Farm is the springboard to connect with partners to support the advocacy and pursue social education and business at the same time, exploring hybrid, and at times, radical solutions towards sustainable development. The Summit will provide plenty of opportunities to have deeper engagement with various stakeholders so that by the end, delegates will have left with concrete next steps towards grounded, scalable initiatives. We invite you to the 3rd Global Social Business Summit from January 15-17, 2016.
BOOK REVIEW: THE GENIUS OF THE POOR - A JOURNEY WITH GAWAD KALINGA
Author: Thomas Graham
Title: The Genius of the Poor: A Journey with Gawad Kalinga
Publisher: Art Angel Printshop Commercial Quests Inc.
The Genius of the Poor
The Genius of the Poor documents author, Thomas Graham's, journey to understand how the community development organisation Gawad Kalinga (to give care) (GK) is working with the poor and the rich to end poverty in the Philippines.
He spent a year travelling to and visiting with various GK communities in the Philippines and in Indonesia to see GK's work in action. He also spoke to GK beneficiaries and partners to find out how its philosophy translates to its work on the ground.
While the book tells the stories of the different types of communities, it also highlights the stories of GK workers and volunteers who give of their time.
From full-time GK workers Issa and Bai Linda whose stories are part of GK lore, to Doc Helen, (p.62) a medical practitioner, who works in a neighbouring village but has visited the GK Sacred Heart Village in Davao, Mindanao every day for the last six years helping to educate the women in basic healthcare and hygiene.
She is also someone whose continued and ongoing presence lets the community know that people outside of the community care about them.
In spite of Doc Helen's ongoing presence she worries about the future of the people and their children, she worries about access to jobs and education.
As someone who took part in a GK Study Tour in 2013, that was one of the questions that I also had.
Visiting a GK village in rural Nueva Ecija, in 2013, it was very easy as an outsider (and everyone knows it's easy to be a helicopter observer) to observe the structural inequalities in the Philippines that kept people in poverty.
I observed that GK did actually work with the poorest of the poor and provide them with houses, but this also meant that the reasons they were poor still existed, lack of education and lack of a job, or lack of well-paid, long-term and sustainable work.
Some of the men in the village worked in the nearby rice fields that were owned by a big estate, some of the women made wigs that were sold overseas.
Other people in the village left their families there while they went to work in large towns that were many hours away or even overseas to Dubai.
One reason they could leave their families was because they knew that they would be safe and cared for in a GK community.
While we were in the community, one of the mothers told the visitors that her family would not be able to afford to send their children to high school because they could not afford the cost of transport to the high school.
There is a Sibol school in the village (3-6 years) and a primary school nearby but the secondary school involves the use of some form of transport.
GK is very well aware of these concerns and Thomas also writes about the need for opportunities for the poor that take them out of poverty.
Thomas writes that Gawad Kalinga, founder, Tito Tony Meloto's vision is for large scale enterprises to partner with the poor in order to get them out of poverty.
Every year GK hosts a Social Business Summit at which entrepreneurs, people from all over the world, come together to discuss ideas to tackle poverty through social enterprise.
In his book, Thomas mentions some of the social enterprises that are part of GK communities.
But Tony Meloto also wants people, especially the young to engage with the poor and partner with them.
With that goal in mind, the GK Enchanted Farm at Bulacan operates as an experimental hothouse where young people can come and work with villagers to see whether their ideas could work in practice.
Thomas also writes about the transformation that takes place within individuals and within communities but he also emphasises that, "On each occasion the key to this transformation was the presence and partnership of others, who came alongside the lost and marginalised and gave them the confidence and belief to rebuild their lives." (p.128)
He emphasises that the poor cannot get out of poverty by themselves, it is a long process and it is very easy to fall back into poverty through continuing natural disasters and life's many very real convolutions.
It is a tribute to Thomas that he managed not only to visit the Philippines and travel to the various GK communities but that he also managed to write a book about his experiences and journey.
Many people visit GK and many have the intention of writing/talking/explaining/publishing information about GK, but people often find that they cannot explain GK's philosophy in a way that makes sense and that often their own life gets in the way of their intentions.
While GK's emphasis on love and continued presence is at one level easy to explain, the reality of the ongoing commitment of volunteers and the quite structured way that GK works is somewhat harder to explain.
It is a tribute to Thomas that he has taken all the bits of GK and managed to tie them into a coherent whole.
What happened to Thomas at the end of his journey?
Did he continue with his privileged life as a globe-trotting journalist?
Well, actually, he is in the process of starting his own social business MAD Travel  – Make a Difference Travel – connecting the 'bewildered rich' with the enterprising poor.
by Suganthi Singarayar
Original review available at https://issuezofinterest.wordpress.com/2015/07/03/the-genius-of-the-poor-a-journey-with-gawad-kalinga/
Tito Tony and Thomas Graham at Dooleys Lidcombe
Tito Tony Meloto founder of Gawad Kalinga (To Give Care) (GK) and journalist, Thomas Graham were in Sydney in May as part of a whirlwind trip to Australia to connect with GK volunteers and spread the word about GK. Tito Tony spoke at Dooley's in Lidcombe on Wednesday 27th May to a gathering of over 40 people both current GKA volunteers and people who were interested in hearing his message.
In his talks, Tito Tony tells stories that lead to a deeper truth about humanity and the life we want to live. Whether we come from a faith based or non-faith based background he speaks to our belief that we need to live in a more just world.
As always Tito Tony manages to bring the audience into his speech and he manages to interweave information about the different groups in the audience into his talks. He mentioned the Vietnamese friends in the audience and proceeded to tell a story about his haircut in Houston, Texas, which was done by a Vietnamese salon owner who refused to take payment. When Tito Tony asked why, she said that she had been a refugee in the Philippines and she had been treated like family there. He went on to say that the Vietnamese community in America had been the largest Asian group of donors for Typhoon Haiyan.
He spoke to the audience about GK's beginnings and his initial work, along with a core group of volunteers, in Bagong Silang a slum to the North of Metro Manila. He said that this core group of volunteers brought only courage and a desire to discover ways of addressing poverty to their work. They had no expertise in the area, but they also realised that no one else had the answer, and that they could only change things by working together.
He said that one of the things he realised was that families and communities were becoming disconnected. That the most privileged were disconnected from the less fortunate. So he went to the most disconnected, to the biggest slum to the north of Manila to work with gang leaders and drug addicts.
He said that he came to the realisation that there was no point blaming others for the problems in the Philippines, "the problem began with me and the changes had to begin with me".
He also said that a number of poverty alleviation programs focused on the poor as objects of charity, while charity he said, encouraged generosity and the sharing of resources it did not solve the problem.
He said the core group had to look at poverty in a different way, because conventional initiatives had not worked. He said that he came to realise that most poverty intervention programs focused on the women and children because they are the victims, however, his experience working with gang members and gang leaders in Bagong Silang showed him that in order to address poverty you needed to get to the root cause of the problem which in this case was a loss of dignity, which led to a loss of human capital, particularly amongst the men. He said, that while many poverty alleviation programs focus on women, they can never be truly sustainable because women are still part of a home and a community and men are part of those homes and communities too.
In the instance of Bagong Silang, the criminals were men, the thieves were men, the domestic violence was mainly carried out by men, due to the loss of their dignity and a lack of motivation to lead a productive life. His experiences in Bagong Silang opened up a lot of insights, but it was also a slow learning curve and they lost a number of people through gang violence and their (GK's) own inability to react to the situation at a fast enough pace.
Tito Tony said that it is not just a top-down approach from government that brings about change, rather you need to tap into the genius of the poor, you bring the genius of the rich to work with the genius of the poor, to give the best to the least, to become the best.
He said that while Filipino Australians continued to remember their relatives back home, they should also remember the generosity of Australians and contribute to Australian life through helping Aboriginal communities here in Australia. He asked what it would take to have Aboriginal people considered as family. He said that it was up to us to discover the power of presence, in the same way that he had to learn to see gang leaders as family – because you don't abandon family. Instead of seeing the less fortunate as objects of charity, we need to see them as family, because it is only then that we feel their hunger and we are in solidarity with their joys and their pain, because that is what we do with family.
Gawad Kalinga Australia's (GKA) Director of Domestic Programs, Andrew Chalk said GKA is looking to implement GK's work in Dubbo. Stan Donnelly, chair of GKA in Dubbo and Riverbank Frank Doolan had travelled from Dubbo to listen to Tito Tony. The program in Dubbo is at the very initial stages.
From the early work in Bagong Silang, GK is moving into its second phase of development, which Tito calls 'enlightened' capitalism. He talked about the need to use our creativity to create wealth that does not leave anyone behind. He pointed out that it was just common sense that when you brought people out of poverty you also created a new market. He spoke about the car company Hyundai which gave GK $1million to build a social innovation centre at GK's farm village university at the Enchanted Farm in Bulacan, 50km from Quezon City. This he said was not charity but rather an investment.  Tito Tony called this a global economic renaissance where you bring rich and poor together to create wealth that does not leave the poor behind. But at the same time corporations are creating a market for their products through brand recognition.
Tito Tony said, "We are creating this farm village university … to unlearn our biases. To unlearn our greed to unlearn and re-learn new things. To build a new caring society and in this farm village university, the first in the world, we are attracting also the brightest and the best from all over the world. For them to discover Asia which is now the booming market and the Philippines which used to be the sick man of Asia, which drove many of our people abroad to look for opportunities is now the second fastest rising economy in the whole world and predictions are that we will become the fastest growing economy."
He talked about value adding, instead of sending raw materials overseas and buying back the finished product at an exorbitant rate, at the village farm university students are learning to develop entire value chains from finished products to supply chains so that the impact is felt from top of the chain to the bottom. Corporations, he said were moving from CSR Corporate Social Responsibility to CSI Corporate Social Investment and that's where the farm village university played a role, in bottom of the pyramid wealth creation.
English journalist, Thomas Graham, spoke about how his own journey with Gawad Kalinga had transformed his life. He spoke about his life changing interview with Tito Tony, where he turned up for a half hour interview to find out the solution to ending poverty and was still there three hours later, none the wiser for his efforts at asking Tito Tony questions. He then proceeded to leave his privileged life and spent a year visiting GK communities to finding out how they and GK worked.
However, he was quick to point out that it was not just Tito Tony who sold him on the concept of GK it was the young people that he encountered at GK's Enchanted Farm, French interns and young Filipinos, who he said were, "really, really driven by some kind of purpose".
He said, "They were living for a reason, I was just living to get a pay cheque to live a lifestyle."
One of the most important things he learned on his journey, was the concept of Walang Iwanan – no one is left behind. He had thought that message was only for the rich – do not leave the poor behind. But he learnt that it was also for the poor. He visited a community where around 78 houses were being built and only 50 had been completed, but no-one was living in any of the completed houses. They were still living in the adjoining slums.
He couldn't understand it.
He said, "At least 50 of you could move in," and their response was, "No, no, Tom, this is Walang Iwanan, so, we are not going to move in until all of us are ready to move into all of those homes". So, Tom said, the community waited an extra year until the funds for the rest of the houses came in and all the houses were built, then the entire community moved in as a whole.
Thomas's story showed how GK changes the way people think about and see the world. The world in which the rich and the poor live. Tito Tony does not argue for the end of capitalism, but rather as he points out an enlightened capitalism, where the poor are not left behind, but their talents are utilised to make them a part of the economy but at the same time an economy that understands that resources are finite and that sustainability literally means a sustainable life that enables everyone to live a life with meaning, epitomised in another GK saying: "Less For Self, More For Others, Enough For All". 
Thomas has written a book about his experiences: The Genius of the Poor, A journey with Gawad Kalinga. The first half is about the different communities that he visited and Thomas says the second half of the book is about learning to do business in a slightly different way, where it's not just about money, but it's also about social business. He said, "If we can make money, have profitable companies, but reinvest that in a social purpose, then maybe we really can change the world."
By Suganthi Singarayar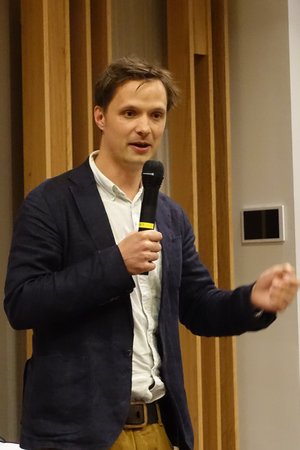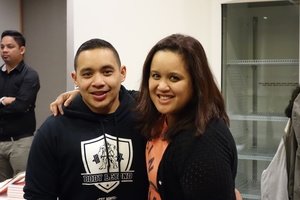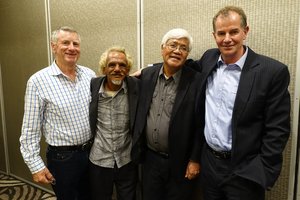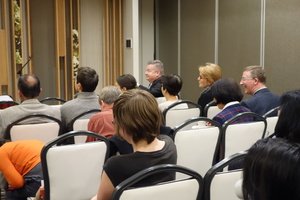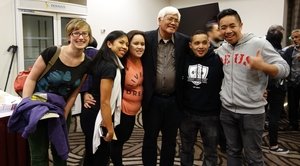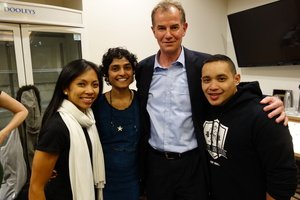 Sydney Band Bonney Read Visits GK
In March 2015, Sydney-based rock band Bonney Read went on a tour to the Philippines with a difference. Not only were they able to perform for Filipino crowds, they also took out time to visit GK villages, learn more about the GK programs and give back to those less fortunate. Band members Jess Cooper, Kat Ayala, Astrid Holz and Jeremy Goldfinch were very inspired by their experience in the Philippines and it left a lasting impression on each of them. They were able to share about their experiences below.
Q: Which GK sites/villages did you go to visit?
We visited GK Telus, where we ran a music workshop at the Sibol School; GK Sitio Pajo, where we learned about GK's processes and spent time with the community members. We went back there for a second day to help prepare the food at Kusina ng Kalinga, feed the kids, and perform for them.
We also visited the GK Enchanted Farm in Bulacan where we spent one day running workshops on Creativity and Teamwork with the SEED scholars, and went back a second day for an orientation and tour, where we learned all the ins and outs of the farm.
Q: What brought you to visit GK and its initiatives in the Philippines?
As a band we knew that we wanted to do something a little bit different with our music other than simply jumping on stage and making an atrocious amount of noise. Individually we all have a passion for music education and truly believe in the power of music, and so when we decided to tour the Philippines we went on the hunt for an organisation that we could align ourselves with. We quickly found Joomajam: a social enterprise that inspires children to participate in education through the enjoyment of music. This really was a perfect fit for us. Joomajam run their programs in conjunction with GK, so in essence that's how we were introduced. After learning more about GK's initiatives over in the Philippines, we were incredibly inspired and excited to be involved moving forward.
Q: What was your favourite memory or highlight from your trip?
Individually we all have many, but there is no doubt that we all hold a special place in our heart for our first experience at a GK Community. We had played a performance the night before at a bar called Saguijo – a mainstay of the Manila music scene. After literally 2 hours sleep, the next morning we trekked out to GK Telus and jumped straight into a classroom with 20 children around the age of 5. We were given some basic instruments and invited to run the class. By the end of the hour (after singing, dancing and jumping around like 5 year olds ourselves), we had made connections with these kids even though they didn't speak english. Music had crossed over culture and language, and enabled us to show love and support. The band was inspired and so excited by the experience, we will never forget it.
Q: Who from the GK village(s) or GK workers that you met you will always remember? Why?
We met so many people through Joomajam and GK that inspired us and still continue to inspire us when we think of them. We worked closest with Vin, Mark, Coco, and Nesty. They took us under their wings, educated us, shared their passions and ideas with us, and enabled us to contribute to causes that we care about – through music. We cannot express our gratitude for their generosity and their infectious drive.
We will no doubt remember everyone we spent time with and look forward to seeing them again when we return on our next tour. We all agree, however, that Nesty made a very significant impact on all of us. Nesty dedicates his life to the GK initiatives, which include managing a number of GK villages, helping to run a kitchen that feeds thousands of hungry children every day, employing disadvantaged teens in his restaurant where he loves to cook, and more. When he speaks, the passion for helping others flows out of him. He is truly an incredible human being and we would all love to be a little more like Nesty.
Q: How do feel about your experience? What did you learn from the experience and the people you met?
Our tour in the Philippines was an incredibly humbling and enlightening experience that changed all of our perspectives on the world, and on life. We've always wanted to make a difference through our passion for music, and we've always believed that we could achieve special things with it. Our experiences in the Philippines confirmed all of those hopes and dreams. We proved to ourselves that we can indeed make a positive difference by doing exactly what we love to do – that we can make important music that is valuable, not just to ourselves, but to the world, and we also have a better idea of how to accomplish that.
The band moves very differently, now that we've made giving back to community a primary motivation. It's changed everything.
Follow Bonney Read on Facebook at http://www.facebook.com/bonneyread or their website at http://bonneyread.net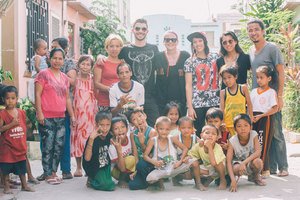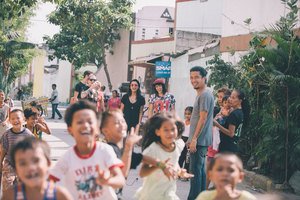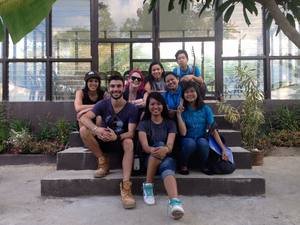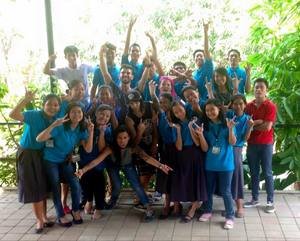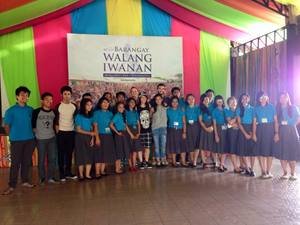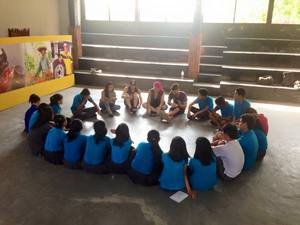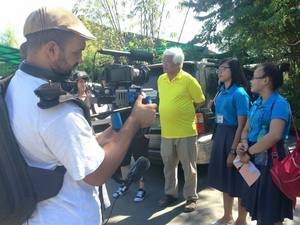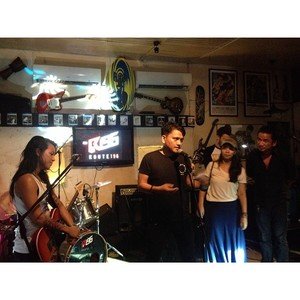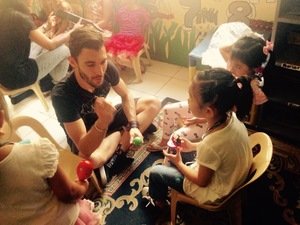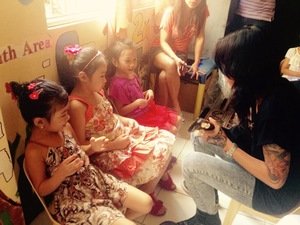 Art Exhibition With A Difference
After 12 months of planning a unique international art project, which would involve me collaborating with Manila's garbage-picking and charcoal-making communities, I finally returned to Manila in late February 2015. I had booked one month in which I'd have to find the communities, gain their trust, create the collaborations using charcoal made by the residents, and work out how to return the proceeds from the future exhibition of these collaborations back to the communities, for their benefit. The demolition of Ulingan (in Tondo) in mid-2014 meant that I had lost touch with the charcoal-makers, one of the main communities with which I wished to work.
 
Through a series of generous contacts, I was invited to visit Gawad Kalinga in the BASECO Compound, a large shantytown area which I'd hoped housed some charcoal-makers.  I was excited to finally visit the community, meet the GK folks, and chat about my project. 
 
The lovely Thess from GK gave me a lift into the Compound, introduced me to Jessie and some of the generous residents in the community centre, and we spent time chatting about the project and the community in BASECO. I was thrilled that the women sitting with us knew where charcoal was being made! I arranged to return in a few days with my Filipino artist colleague Geloy, to find the charcoal-makers and ask if they'd like to participate in the art project. We left BASECO, and Thess gave me a quick tour of GK Paradise Heights/Smokey Mountain before dropping me home. I had a fantastic, inspiring day full of laughter, ideas and genuine friendship. 
 
I returned with Geloy a few days later; we met more friendly GK faces at the community centre, this time buzzing with activity, as health/medical students conducted check-ups and treated residents for minor ailments. We set off to the Pasig river and walked along the wall, past the smiling, energetic community, to a single charcoal-pit (ulingan) at the edge of the compound! We met Tito Publito, the friendly owner of the pit, and his lovely wife. After chatting about his charcoal and our plans for the collaborations, Tito Publito smiled and laughed, and we arranged to come back in a few days to create the artworks! 
 
It was wonderful to see the community enjoying the benefits of the housing, infrastructure + amenities initiated/facilitated by GK in the Compound.  It was also great to have GK's support for the project, and help in finding the charcoal-makers of BASECO.  In addition, I can trust that the money coming back to GK from this project will be used to really help the community.
 
I begin collaborating with Tito Publito and the residents near the Ulingan on Thursday 12 March, for a couple of days. Afterwards, I will take artworks we create back to Australia, to prepare them and exhibit them in mid-2015. I am excited by the creative possibilities, and can't wait to show the wider world how resilient, generous, engaging and creative the charcoal-makers and BASECO residents are! 
Written by Kaff Eine
By Jessa Amedo
 An organisation that is successful is so because of the people. Their passion which fuel their ideas which informs their hard work all encourage success. People who work together in this way find themselves in a beautiful working relationship not only with each other, but also the people for whom they are working.
Gawad Kalinga is one such organisation. Gawad Kalinga ("to give care" when translated) is an organisation that aims to eradicate poverty and restore hope and dignity in the poor. Tony Meloto, the group's founder, began this movement in the Philippines and because of its successes, it is now seen working in other developing countries.
 Volunteers of GK, come from many a place all over the world. Within major cities there is a GK group working hard to raise awareness for the movement, hopefully encouraging more volunteers to help in any way they can. Volunteers spend a lot of time planning and implementing events for raising awareness and funds, furiously thinking of how to improve the movement within their local area and all volunteers make the journey to a GK village in the Philippines or Cambodia or Papua New Guinea to see these ideas to fruition or to see GK in action.
 For any group to keep going strong, spending time with one another and getting to know each other beyond work needs to be invested. Which is why get togethers are important.
 On a very hot Saturday in late February, Gawad Kalinga Melbourne hosted a BBQ. It was an event to pull together the past, present and future volunteers of GK. It's a chance to say hello to familiar and unfamiliar faces, it's a chance to catch everybody up on what is happening within GK and importantly, it's a chance to reignite the fire that fuels Gawad Kalinga. It cannot be helped that when you are surrounded by volunteers, you think about why you became a volunteer and why you are still one. All within a fun context. After all, Filipinos know how to have a good time.
 Given Melbourne's notoriously unpredictable weather, the hot and sunny weather was welcomed by all in attendance. Perfect conditions for a BBQ at the park. The setting was the beautiful Boathouse in Kew, a central location that is easy to get to for everybody.
 The day went off perfectly, despite a few missed turns and 'filo' time, the event was a success. The food included some traditional Filipino dishes such as leche flan. The games were interesting and embarrassing because with those two components, laughs are sure to follow and there was general chit-chat amongst the group. As you listened around, you could hear the volunteers' enthusiasm and passion building up once again with talks about their dreams for a better and improved society. It wasn't the result of a conducted discussion but rather random conversations that happened to occur over grabbing plates and food, during eating, after playing games or by the water dispenser. It's this kind of atmosphere that makes volunteers want to stay on, genuinely give a helping hand and provide strength to a worthy cause.
 If you are interested in volunteering for GK or would like to know more information, please contact Marisa Vedar on 0425 831 673 or Marylou Dellosa on 0408 679 566.